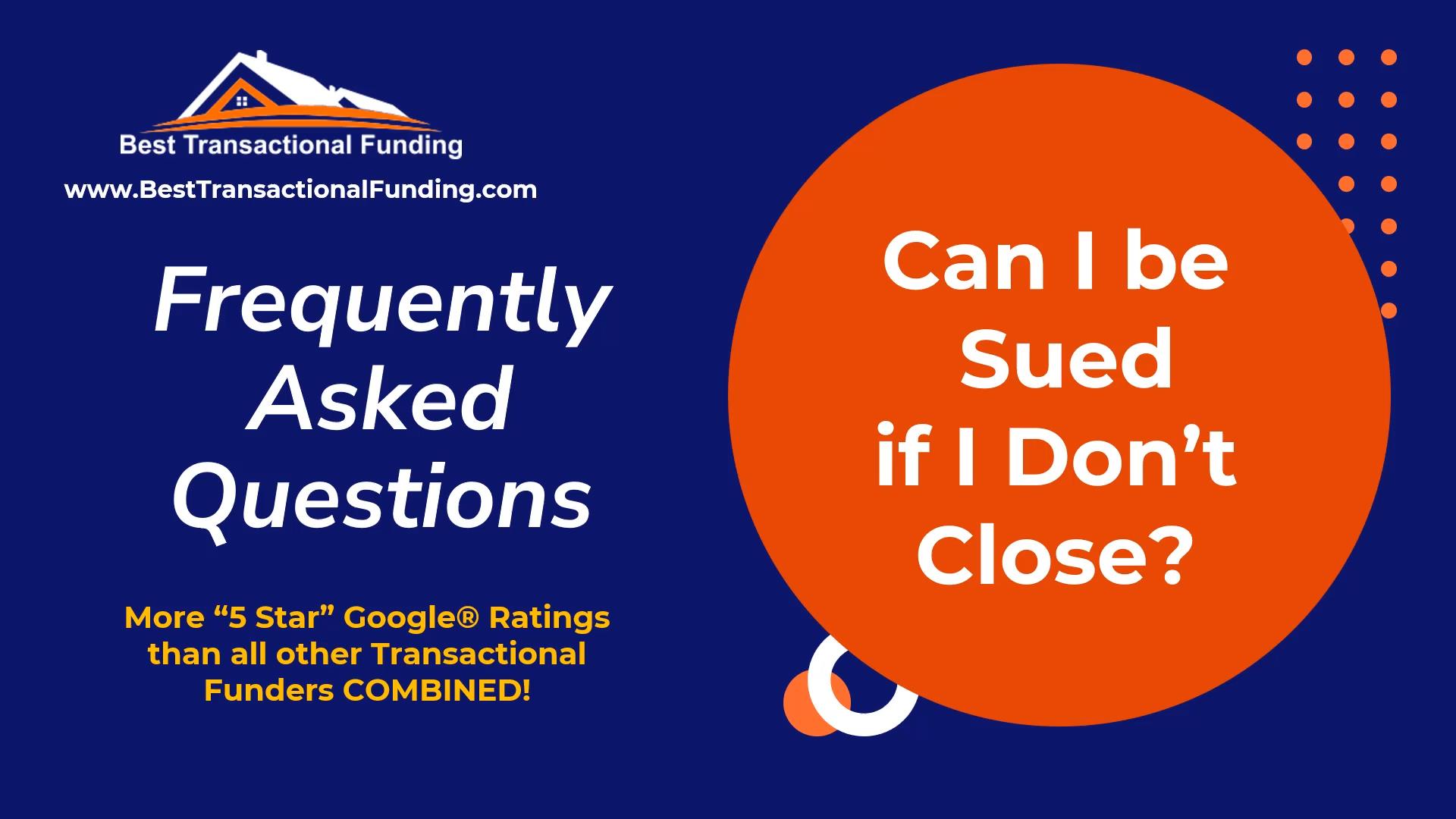 Real Estate Investors ask "Can I Be Sued if I Don't Close?"
While anyone can sue anyone for any reason, the practicality of hiring an attorney and going to court stops people from doing this if they have an ounce of common sense.
Let's look at what would really happen if you simply didn't close for any reason.
If you use a "Standard" contract that your local Board of Realtor® uses, it limits your liability to the amount of your earnest money deposit.
If you never give the closing agent your earnest money deposit, you should expect to be sued and additionally for attorney's fees, in which case you can expect to lose your case.
One actual reason for your cancellation be a "Material Defect" in the property or Chain of Title that wasn't disclosed prior to your signing the contract – even if you signed an "As Is" contract.
The solution is simple, do the right thing and put up earnest money deposits when they're required.
If you don't have an earnest money deposit, then borrow it or take on a partner who will put it up.
If you're dealing directly with the seller, you may be able to use your own "homemade" contract in which case you can add a clause which defers you from putting up your earnest money deposit until the day of closing.
The next "step up" in contracting is to include an "Extended Liability" clause in your contracts with sellers and buyers.
This is a simple sentence that requires your seller or your end-buyer to pay a fee if for any reason they don't come to closing.
Your seller would be refunding your earnest money deposit, but he would also have to pay an additional fee for not closing.
Your end-buyer would lose his earnest money deposit to you and he would be required to pay an additional fee, the extended liability amount in your contract.
The fear of being sued by a seller or end-buyer is paralyzing for too many investors.
Most successful investors, whether they're wrong or not, have been sued repeatedly.
If they haven't been sued it's because they don't do certain deals "to be safe" with the result they're leaving tons and tons of business for other investors.
Your limited liability is extremely small in comparison to the immense profits you can make as an investor so the best thing you can do is to be careful, read your contracts, and keep failing forward.
If you're still concerned, ask your closing agent when you have a question instead of going to an online forum and getting bad or incomplete advice that can be very expensive.
If you have any additional questions, contact me directly at DaveDinkelQuestions@gmail.com.
If you need hard money instead of transactional funding, contact me for referrals to private hard money lenders.
Be sure to check out BestTransactionalFunding.com for all your same-day double closing needs, including a list of Investor-Friendly Closing Agents in various states.
We have more five-star Google ratings than all the other transactional funders combined.
Visit DaveDinkel.com for full privacy policy, terms of use, etc. Be sure to contact us through the website at davedinkel.com if you have questions or concerns. Results mentioned in this presentation and any video, article, and/or material related to Dave Dinkel and his associated businesses are not typical nor are a guarantee of any earning potential. No advice is to be construed as legal, accounting, or professional advice EVER. Please consult related licensed and qualified professionals before taking any action. No person(s) mentioned in the articles and /or shown on videos received compensation in any form for their opinions.