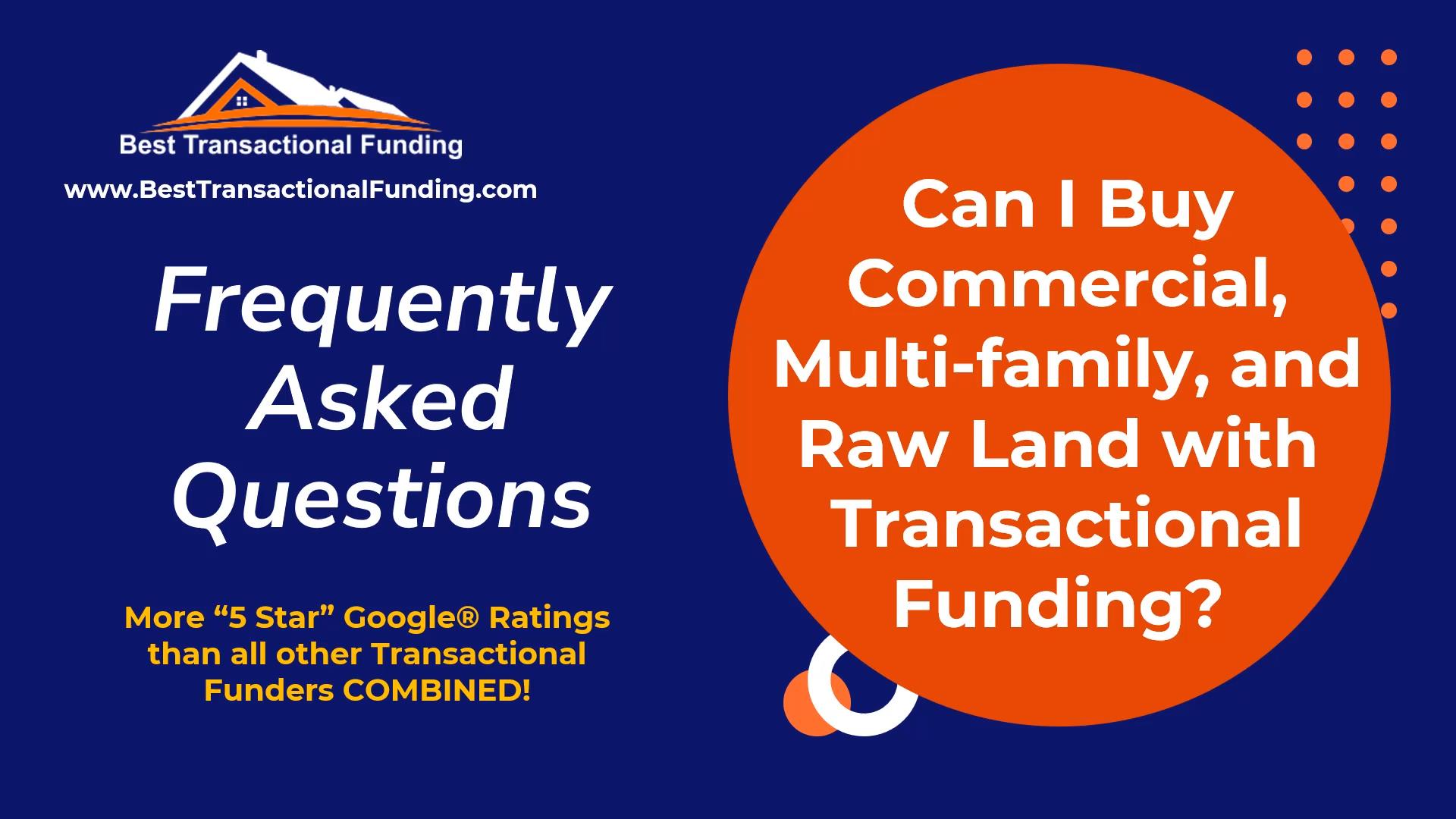 The short answer is "Yes," but there are a few caveats.
Commercial, Multi-Family, and Raw Land with Transactional Funding
With commercial, multi-family, and raw land properties, the requirements for closing that must be in place are:
The first one is that both "legs" of the closings must occur on the same day and at the same closing agent.
Many commercial transactions include "seller financing" which doesn't matter to the transactional funder as this is less money he needs, but the seller's loan may not be transferable to the end buyer.
In this case, the end buyer must provide financing to pay off the seller's financing at the closing.
If the seller financing is transferrable to the end buyer, it makes the funds he must bring to closing much less and is a big cost saving and a huge sales benefit.
This same seller financing opportunity could occur in multi-family properties and, again, it is a benefit to the investor because of lower transactional funding costs and, if transferable to the end buyer, a huge benefit in saving financing costs.
With commercial and multi-family properties, the end buyer usually purchases with some amount of borrowed funds.
What can happen is the end buyer's lender is not ready on the day of closing or is slow to give the closing agent what is called a "Clear to Close" ("CTC") which is the authorization to fund the second leg ("B-C") of the double closing.
This may not seem like a problem, but it can be for an anxious seller who is concerned that his sale will not close.
The solution is to "stay on top" of the end buyer and the closing agent in the event you need an extension from your seller for a few days to delay the close.
Without this extension of your contract in writing, you could have a serious legal problem if the seller changes his mind.
Raw land is usually the simplest of these double closings and seldom presents problems at closing.
The most common issue I have seen is a dispute over boundary lines where an old deed refers to a geographical marker such as a pile of stones, river (stream) or even a roadway that may have changed in the past.
Make sure that you have a survey done, especially since the Federal Geographical Surveys have gone to satellite imaging and landowners have both lost and gained land as their "official" boundaries changed.
Key words – Raw Land with Transactional Funding, Multi-Family with Transactional Funding, Commercial Deals with Transactional Funding
If you have any additional questions, contact me directly at DaveDinkelQuestions@gmail.com.
If you need hard money instead of transactional funding, contact me for referrals to private hard money lenders.
Be sure to check out BestTransactionalFunding.com for all your same-day double closing needs, including a list of Investor-Friendly Closing Agents in various states.
We have more five-star Google ratings than all the other transactional funders combined.
Visit DaveDinkel.com for full privacy policy, terms of use, etc. Be sure to contact us through the website at davedinkel.com if you have questions or concerns. Results mentioned in this presentation and any video, article, and/or material related to Dave Dinkel and his associated businesses are not typical nor are a guarantee of any earning potential. No advice is to be construed as legal, accounting, or professional advice EVER. Please consult related licensed and qualified professionals before taking any action. No person(s) mentioned in the articles and /or shown on videos received compensation in any form for their opinions.