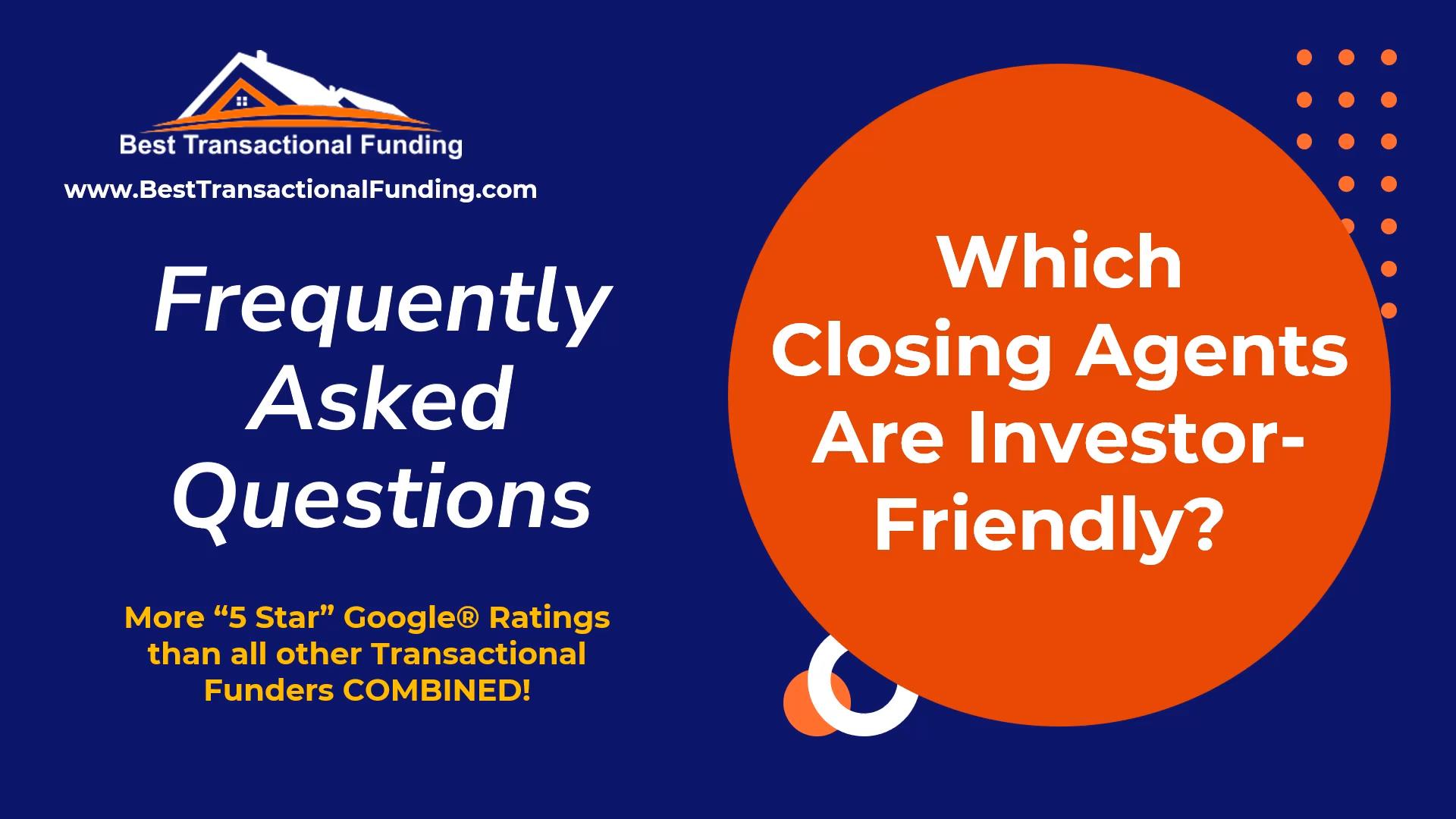 The importance of dealing with investor-friendly closing agents cannot be understated!
If you must deal with the domineering person at the closing agent or attorney, you could have a serious problem to start.
Too often, a closing person is knowledgeable from personal experience of doing a lot of closings but fails to get the investor deals closed.
The issue is a breakdown in communications between the closer and the investor because the closer believes the closing "steps" must be done in a certain way and the investor may not understand or agree with him.
This does not mean the closing agent is always correct, but they believe the answer they're giving you to be true.
An actual current example is in North Carolina where a letter from the State BAR Association gave "suggestions and guidelines" about wholesale transactions.
Approximately 20% of the closing attorneys initiated revised closing guidelines as an over-reaction to the BAR suggestions.
The other 80% of the state's attorneys did not make any changes to their day-to-day closing procedures.
Who was "right" is a question that can only be answered by the real facts, as four times as many attorneys believe one thing and the rest don't, and they're all looking at the same letter!
There are few ways to find investor-friendly attorneys:
Number one – Ask for referrals from social media investor groups, other local investors, or your local REIAS (real estate investor associations).
Number two – The other way is to look at my website – BestTransactionalFunding.com. There's a menu drop down that says Learn More.  Cursor over it and it says investor-friendly agents.  When it highlights it, it will drop down the investor-friendly agents in various states. On occasion I have referrals to other states. But if you then take the state and open it up, you'll see a list of investor-friendly or non-friendly closing agents.  Any of the ones highlighted in red specifically, I will not close with that firm for various reasons.  Now these are personal opinions. It doesn't mean they're bad firms or anything else. It simply means, I tried doing a closing or closings with them and they didn't work.
Always ask any attorney if he does double closings BEFORE you send them your A to B contract to start the title work.
Most closing agents who say they don't do double closings do so because they think the investor is talking about an assignment or sale of his contract.
In these cases, they are correct in saying "no," but not so to doing an actual double closing.
The other issue that may arise is that the closing agent says "yes" we do double closings, BUT you have to record the A to B deed and wait 2 to 21 days to close the second B to C closing.
There is no law, statute, or regulation in any state that my attorneys know of where this is correct.
This is a requirement of the specific closing agent you're trying to deal with, and, frankly, I believe they don't want to deal with investors.
If you have any additional questions, contact me directly at DaveDinkelQuestions@gmail.com.
If you need hard money instead of transactional funding, contact me for referrals to private hard money lenders.
Be sure to check out BestTransactionalFunding.com for all your same-day double closing needs, including a list of Investor-Friendly Closing Agents in various states.
We have more five-star Google ratings than all the other transactional funders combined.
If you'd like more information about my mentor program, please go to DaveDinkel.com/mentoring-program/
Visit DaveDinkel.com for full privacy policy, terms of use, etc. Be sure to contact us through the website at davedinkel.com if you have questions or concerns. Results mentioned in this presentation and any video, article, and/or material related to Dave Dinkel and his associated businesses are not typical nor are a guarantee of any earning potential. No advice is to be construed as legal, accounting, or professional advice EVER. Please consult related licensed and qualified professionals before taking any action. No person(s) mentioned in the articles and /or shown on videos received compensation in any form for their opinions.