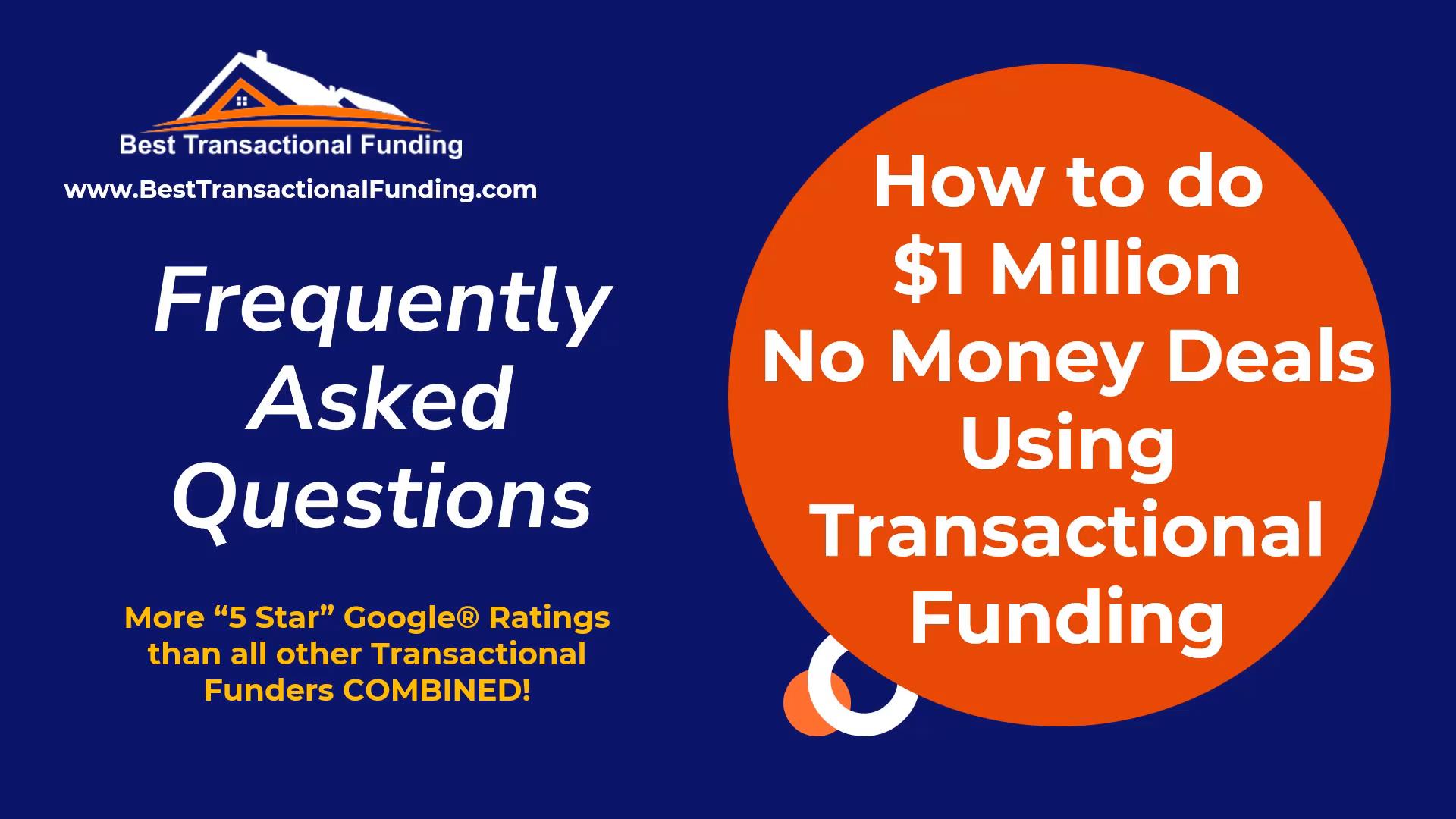 How to do $1 million no money deals using transactional funding.
• Is it really possible to do deals for $1 million+/- with no money of your own? Emphatically, yes!
• Whether you're looking at buying and selling single-family homes, commercial properties, multi-families or even raw land, all you need to do is get the property under contract with the seller and find an end buyer.
• Some investors look for end buyers who need a specific type of property before they engage with the seller to purchase their property, just make sure you get a long enough inspection so your earnest money deposit is not at risk if you can't find a buyer.
• It's a general belief that transactional funders work in a purchase price range of say $10,000-$500,000 +/-.
• Transactional funding has been done for single properties for hundreds of millions of dollars.
• The difference between wholesaling $100,000 property and a $10 million property is only the size the earnest money deposit and the sophistication of the seller and the buyer.
• These properties may also have attorneys and listing agents associated with them, which can be an inherent problem.
• To cover substantial earnest money deposits for higher priced properties, many investors offer the seller an option contract and then exercise this option at the closing table.
• When the investor exercises his option to purchase the property his transactional funder will pay for his purchase with cash at the closing.
• Shortly thereafter on the same day, the end buyer will bring his own cash to close or have his lender approve and wire his funds to close.
• Another option is to borrow the earnest money deposit from professional lenders who loan earnest money deposit specifically or from friends or family members.
What amount of profit should you expect if you're looking to wholesale million-dollar properties?
• Well you should never make less than a Realtor® does – 5% or 6%.
• What I see in thousands of these transactions are profits in the range of $100,000 to $400,000 per million dollars of purchase price.
• Your success in doing these larger deals is predicated on having multiple buyers who are ready to purchase the property and who have funds to close.
• If the buyers getting financing for his purchase, remember that at least 30% of the time, hard money lenders do not close.
If you have any additional questions, contact me directly at DaveDinkelQuestions@gmail.com.
If you need hard money instead of transactional funding, contact me for referrals to private hard money lenders.
Be sure to check out BestTransactionalFunding.com for all your same-day double closing needs, including a list of Investor-Friendly Closing Agents in various states.
We have more five-star Google ratings than all the other transactional funders combined.
If you'd like more information about my mentor program, please go to http://davedinkel.com/mentoring-program/
Visit DaveDinkel.com for full privacy policy, terms of use, etc. Be sure to contact us through the website at davedinkel.com if you have questions or concerns. Results mentioned in this presentation and any video, article, and/or material related to Dave Dinkel and his associated businesses are not typical nor are a guarantee of any earning potential. No advice is to be construed as legal, accounting, or professional advice EVER. Please consult related licensed and qualified professionals before taking any action. No person(s) mentioned in the articles and /or shown on videos received compensation in any form for their opinions.