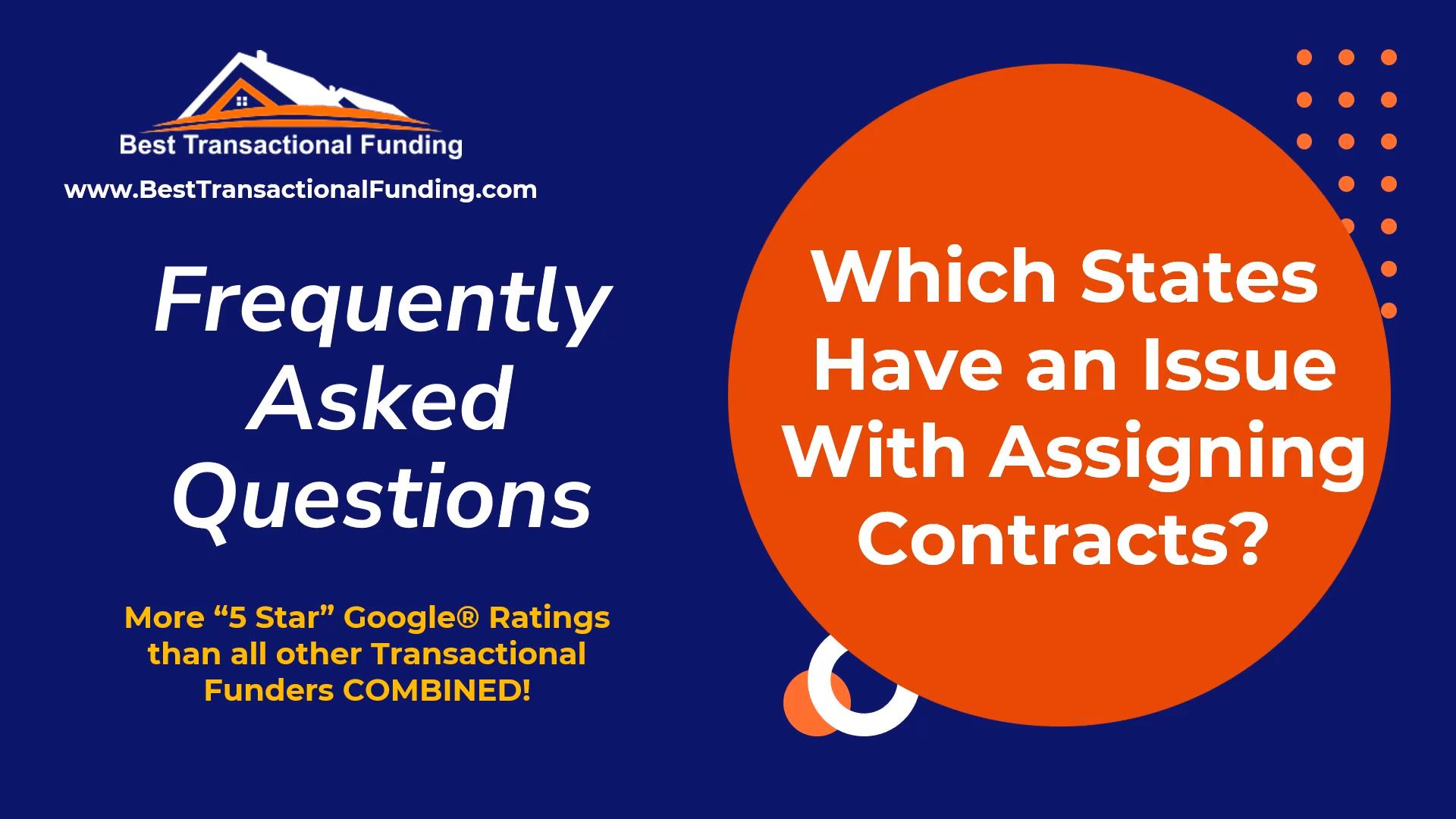 What states have an issue with assigning contracts?
• There is a growing trend among states that want to STOP real estate investors from wholesaling properties.
• The movement to stop investors from doing their deals has been a constant drumbeat of the local and national Board of Realtors®.
• They believe that investors are "stealing" commissions they are entitled to and that their professionalism and access to the MLS® ensures sellers the highest possible price for the property.
• There are numerous reasons every home seller doesn't just call a Realtor® and list their property.
• Some these issues are the property's condition or the owner's personal financial circumstances (it must be sold fast for example) that can't be handled quickly and efficiently by listing the property.
• Unfortunately, a large part of the resentment by property owners with using a listing agent has to do with their previous unsatisfactory experiences working with Realtors®.
• Because of the lobbying efforts by these groups, states have been "regulating" investors by passing new statutes, interpreting old statutes differently, or having the state BAR Association issue memos as to what the closing agent should be doing, or not doing.
• The legislation has been passed, or more appropriately interpreted by few state legislators, refers to the definition of wholesaling as using the end-buyers funds to purchase the property.
• This act of using the end-buyers funds to close the original purchase is the definition of an assignment of contract and some states have broadened that definition to exercising an option contract or selling a contract.
• None of the statutes or regulations prohibit double closings of a wholesale transaction.
• However, some attorneys in these states have done their well-meaning but misguided interpretation of the "regulations" to mean that in a double closing the investor (B) must close and hold the property for two days to two weeks!
• The solution for these interpretation irregularities is to find another closing agent / attorney who is investor-friendly which is why I've included a list of agents in various states who I found to be friendly to double closings.
• To find an investor friendly list look on my website www.BestTransactionalFunding.com under the "Learn More" menu tab, then under the drop-down menu item, "Investor-Friendly Agents" and then by state.
• Currently, the states that are least investor-friendly are Illinois, Ohio, Oklahoma and North and South Carolina, with others to follow.
• There are plenty of closing agents / attorneys and in the above states who allow double closings. For a list of investor friendly closing agents by state, go to this list of investor friendly closing agents.
If you have any additional questions, contact me directly at DaveDinkelQuestions@gmail.com.
If you need hard money instead of transactional funding, contact me for referrals to private hard money lenders.
Be sure to check out BestTransactionalFunding.com for all your same-day double closing needs, including a list of Investor-Friendly Closing Agents in various states.
We have more five-star Google ratings than all the other transactional funders combined.
Visit DaveDinkel.com for full privacy policy, terms of use, etc. Be sure to contact us through the website at davedinkel.com if you have questions or concerns. Results mentioned in this presentation and any video, article, and/or material related to Dave Dinkel and his associated businesses are not typical nor are a guarantee of any earning potential. No advice is to be construed as legal, accounting, or professional advice EVER. Please consult related licensed and qualified professionals before taking any action. No person(s) mentioned in the articles and /or shown on videos received compensation in any form for their opinions.