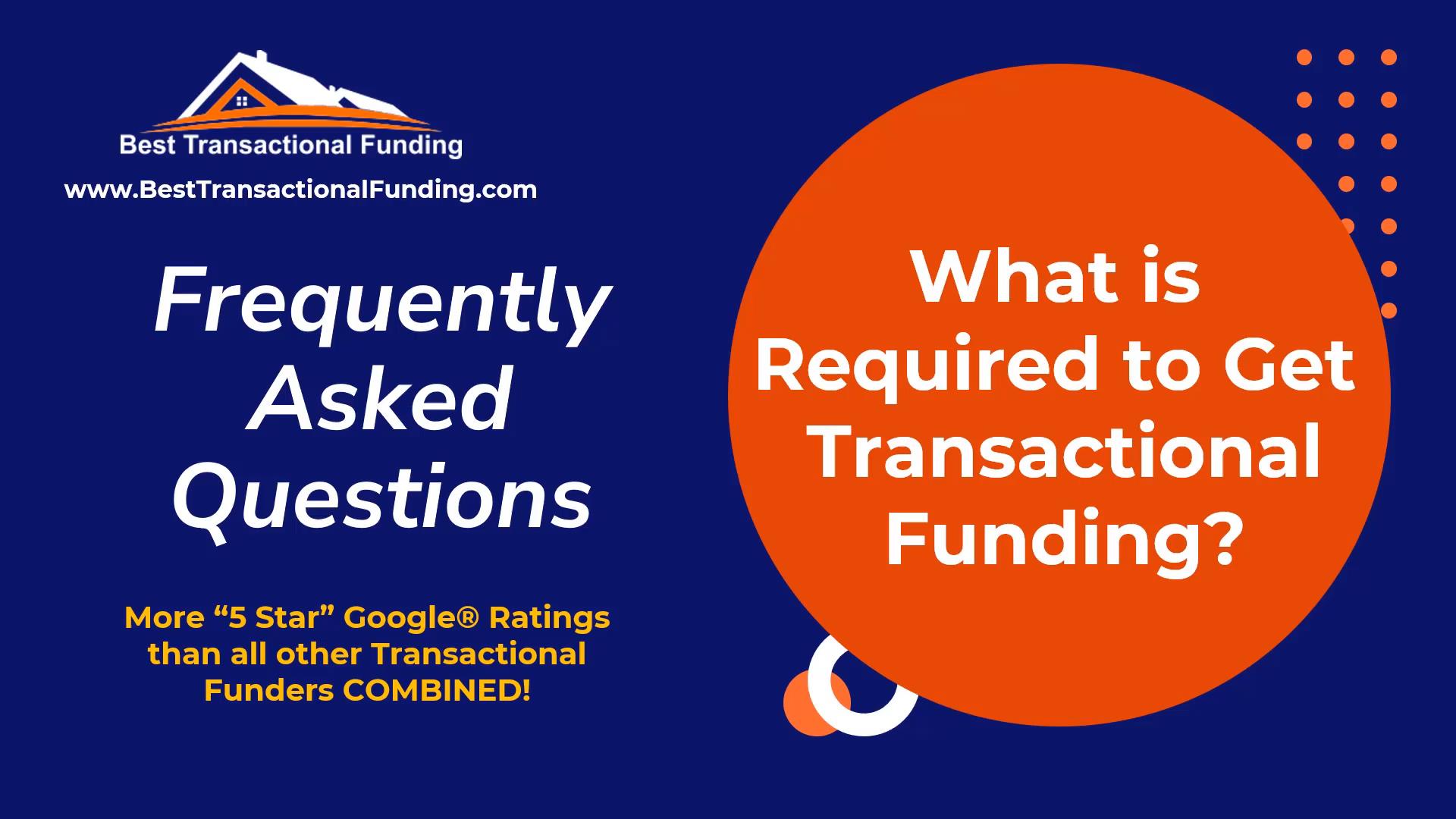 What's required to get transactional funding?
Transactional Funding is typically for wholesale double closings, wholesale flips or in some cases what's called flash cash. This is the most asked question I get as a transactional funder.
Let's talk about what's not required.
• There is no credit check.
• Bankruptcy is okay.
• No appraisal required.
• Condition doesn't matter.
• Buyer can be an LLC, partnership, corporation or an individual.
• No proof of funds required.
• No application form.
• No additional fees other than the transaction and the wire fee.
Three things are needed.
• Number one is an A to B signed contract. A being the original seller. B being the investor.
• Number 2 – B to C signed contract. This is where the investor becomes the seller and C is your end buyer.
• Number 3 – email address of the person at the closing agent you're working with.
I take care of all the details of the funding process directly with the closing agent from here on out. No need to worry about your transactional funder not coming to closing. With 47 years of investing experience and thousands of closings, I know what needs to be done!
So what else is required?
• Both the A to B and B to C closings must be on the same day.
• Both the A to B and B to C closings must be with the same closing agent, attorney, settlement agent or the escrow agent.
We make it very easy for you. If you have any additional questions, contact me directly at DaveDinkelQuestions@Gmail.com.
If you need hard money instead of transactional funding, contact me for referrals to private hard money lenders.
Be sure to check out BestTransactionalFunding.com for all your same-day double closing needs, including a list of investor friendly closing agents in various states.
We have more five-star Google ratings than all the other transactional funders combined.
If you'd like more information about my mentor program, please go to DaveDinkel.com/mentoring-program/
Visit DaveDinkel.com for full privacy policy, terms of use, etc. Be sure to contact us through the website at davedinkel.com if you have questions or concerns. Results mentioned in this presentation and any video, article, and/or material related to Dave Dinkel and his associated businesses are not typical nor are a guarantee of any earning potential. No advice is to be construed as legal, accounting, or professional advice EVER. Please consult related licensed and qualified professionals before taking any action. No person(s) mentioned in the articles and /or shown on videos received compensation in any form for their opinions.