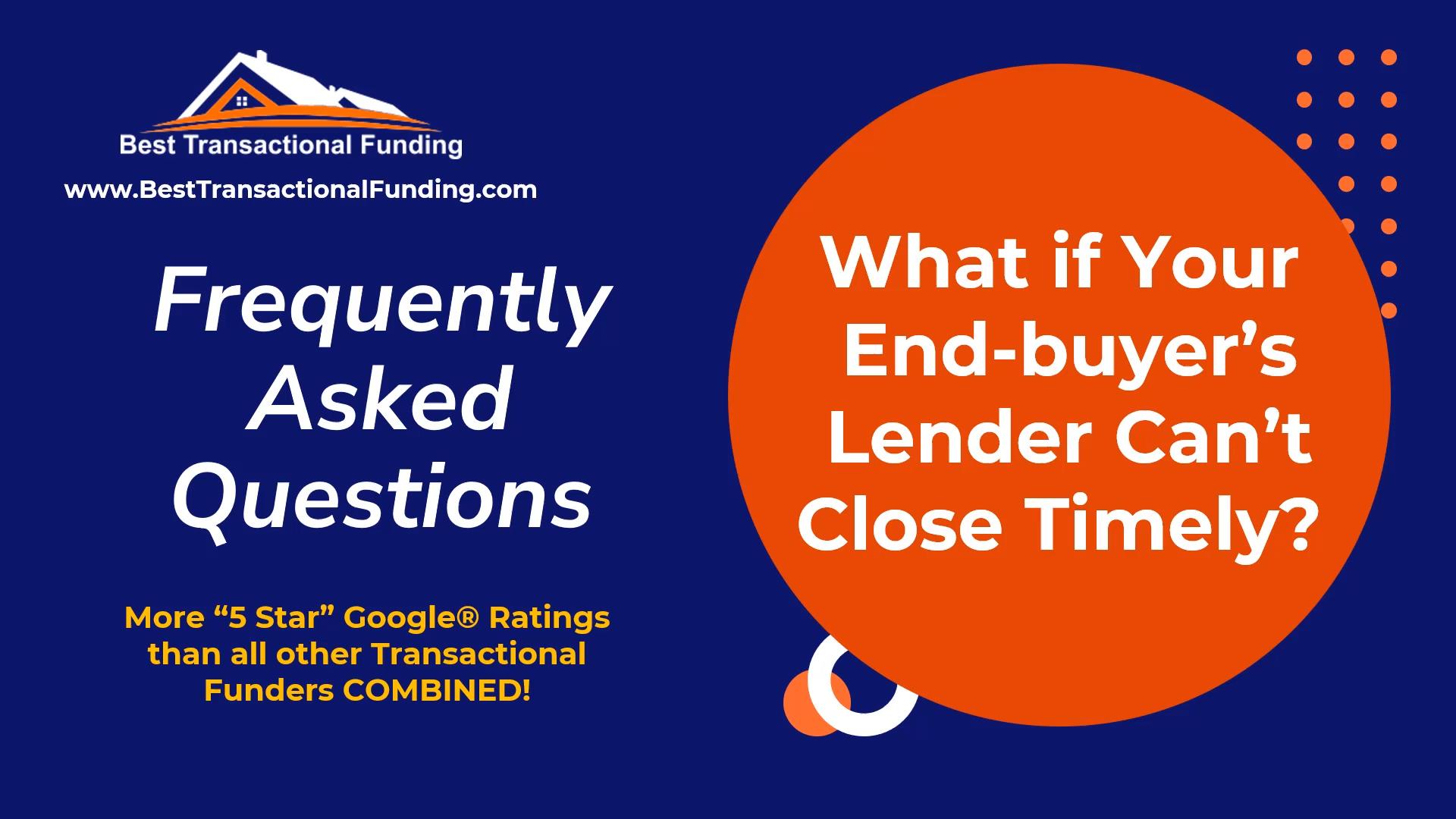 Too often an investor is faced with a serious dilemma if the end buyer's lender can't close timely, or close at all. 
The end buyer's hard money lender should have gotten ready for the closing at least days or weeks in advance and, unfortunately, the end buyer may well believe this to be true.
Many investors believe that having a hard money lender on their side to close means the deal will close timely.
These investors too often tell the seller that they are "cash buyers" because hard money lenders bring cash to the closing, hopefully.
Unfortunately, over 40%+ of the actual closings I've tried to fund, did not close timely or, in many cases, at all because of failed hard money lenders!
Three problems can arise, the following first two reasons are outright scams.
Number one – The hard money lender was only interested in collecting up-front fees and never had any intention of closing – NEVER pay any upfront closing cost before closing.
The lender never intended to even review the file and on one actual case, the investor traded over 60 emails before the lender finally ghosted him with the $5000 fee he paid.
Number two – The hard money lender quoted a "fake rate" initially to get the investor to commit to his loan program and a few days before the closing stated, "My contractor found more work that's needed, or we reran the numbers and now you need 25% to close instead of 10% I quoted you previously."
In these cases, the lender may actually do the loan, but only under the new guideline, but the investor has to scramble to come up with a huge chunk of cash.
Number three – Smaller hard money lenders are private lenders may have in all good faith planned on funding the end-buyer's closing, but at the last minute got a "better offer" from another investor, which may include part of the profits on the deal.
He simply explained they can no longer fund your closing and they have no regrets about walking away.
I tell investors when "trapped" in a situation where they unexpectedly need money to close, to contact friends or family members and explain that you're willing to pay the greater of 10% of the loan amount, or 10% of the profit just to borrow the money short-term.
If you have any additional questions, contact me directly at DaveDinkelQuestions@gmail.com.
If you need hard money instead of transactional funding, contact me for referrals to private hard money lenders.
Be sure to check out BestTransactionalFunding.com for all your same-day double closing needs, including a list of Investor-Friendly Closing Agents in various states.
We have more five-star Google ratings than all the other transactional funders combined.
Visit DaveDinkel.com for full privacy policy, terms of use, etc. Be sure to contact us through the website at davedinkel.com if you have questions or concerns. Results mentioned in this presentation and any video, article, and/or material related to Dave Dinkel and his associated businesses are not typical nor are a guarantee of any earning potential. No advice is to be construed as legal, accounting, or professional advice EVER. Please consult related licensed and qualified professionals before taking any action. No person(s) mentioned in the articles and /or shown on videos received compensation in any form for their opinions.