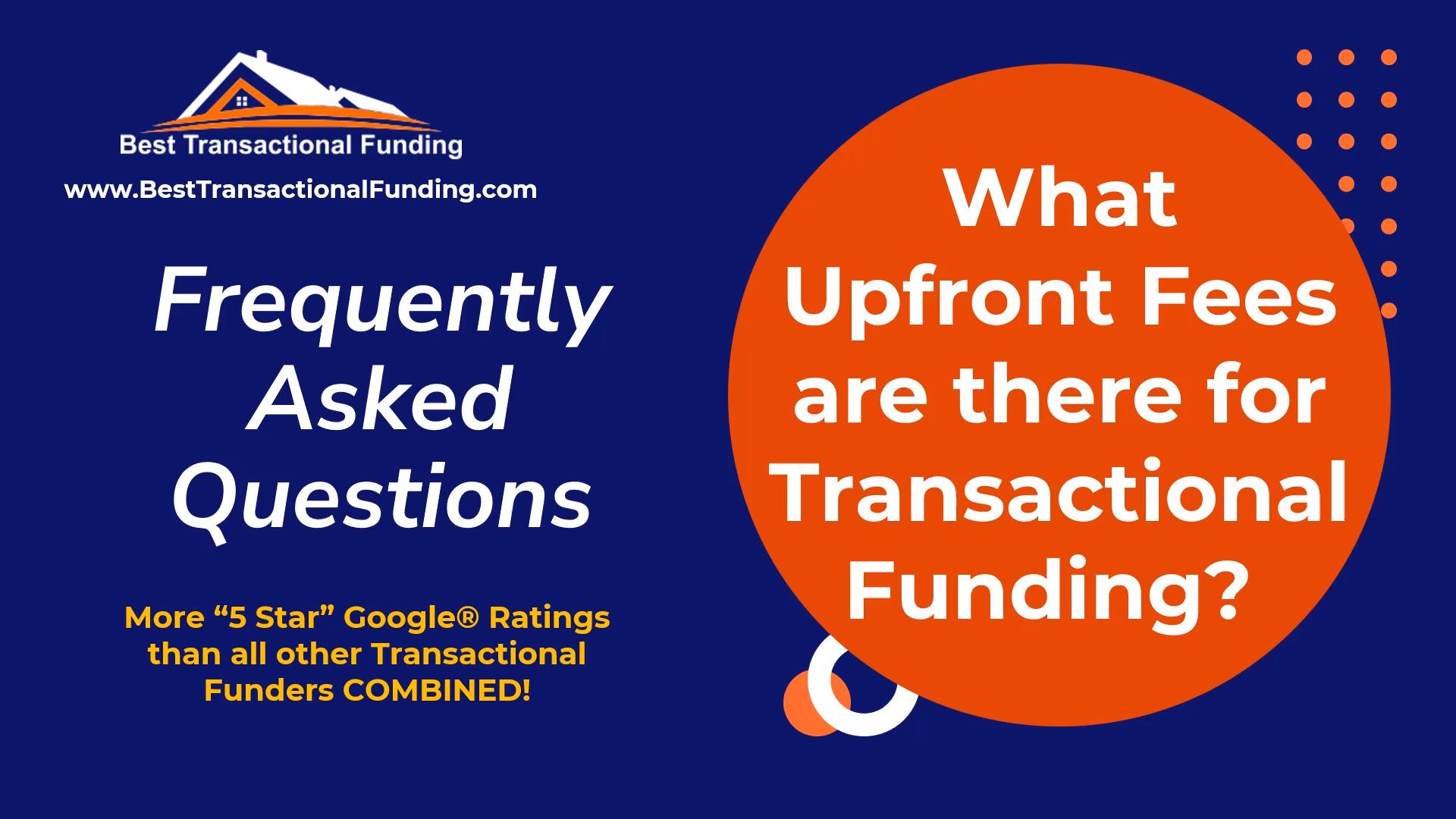 There should never be any upfront costs for transactional funding, but…
Some transactional lenders charge an Application Fee for them to decide whether they will or will not fund your deal.
It is critical for any investor who needs transactional funding to "interview" an actual representative of the funding company and ask certain questions, such as:
What states do you NOT fund in?
Do you have any upfront fees?
What happens if the deal doesn't close, am I charged anything?
What is your minimum?
How much is your funding fee?
Is there a wire or transaction fee?
Are there any back-end fees?
Do you do extended closings?
Does an extended closing cost any more?
How much notice do you need to fund my closing?
Do you fund EMDs or down payments?
How long have you been in business?
Do you give referrals to investor-friendly closing agents/attorneys?
If I have a problem before closing with the closing agent, will you advise me what to do?
Besides the answers to these questions, by asking them you will get a sense of how cooperative the funder is to work with.
This insight will be very important when things go wrong close to the closing, and you really need his help in making it through the closings.
If you have any additional questions, contact me directly at DaveDinkelQuestions@gmail.com.
If you need hard money instead of transactional funding, contact me for referrals to private hard money lenders.
Be sure to check out BestTransactionalFunding.com for all your same-day double closing needs, including a list of Investor-Friendly Closing Agents in various states.
We have more five-star Google ratings than all the other transactional funders combined.
Visit DaveDinkel.com for full privacy policy, terms of use, etc. Be sure to contact us through the website at davedinkel.com if you have questions or concerns. Results mentioned in this presentation and any video, article, and/or material related to Dave Dinkel and his associated businesses are not typical nor are a guarantee of any earning potential. No advice is to be construed as legal, accounting, or professional advice EVER. Please consult related licensed and qualified professionals before taking any action. No person(s) mentioned in the articles and /or shown on videos received compensation in any form for their opinions.